Hi, I'm Yuka Inui, Editor of Reach One.
Today I am interviewing Stefan who got the Best Engineer Award at the BizReach Awards 1st Half-Year 2019.
We talk about his experience of working for the first time in Japan and at BizReach. We are also talking about how he accomplished to obtain this award.
Meier Stefan
Stefan is born in 1985 in Switzerland. He has studied computer science, linguistics, and entrepreneurship. While studying part-time in the evening at the university, he worked full time during the day in the IT field. For his Master thesis, he came for five months as a research student to Chuo University. After graduating, he went back to his home country to continue to work at his previous company. Stefan entered BizReach in September 2015, after getting scouted by one of the company's board members. His hobbies are art-related activities, playing guitar and piano, but also hiking and enjoying nature.
From being a part-time student and a full-time Engineer to working at BizReach
―Congratulations on receiving the Best Engineer Award!
Thank you.
―How did you feel when receiving the award?
It was very unexpected and I couldn't believe to get this award. Once standing on the stage in front of everyone, I felt overwhelmed and happy.
―I heard that BizReach is your first company in Japan.
Yes, that's true. I entered BizReach in September 2015. However, I only arrived in Japan two days before starting my new work, without even having an apartment. The first two years and a half were quite difficult because I was not able to show my skills even though I tried very hard. Now, after three years in Japan, receiving such a prestigious award, I feel very happy. I am finally able to show results and to enjoy working in Japan.
―In the end, hard work paid off and you were able to succeed! I heard that you have a somewhat unusual professional career…
Yes. Since 2004, for eight years, I had lived a life of "studying in the evening while working daytime". For my work, I was always working in the IT field. At university I studied first linguistics, then computer sciences and finally entrepreneurship. In 2014, I came to Japan as an exchange student in order to write my master thesis in the field of Entrepreneurship at Chuo University. At that time, I worked in the evening, while studying daytime – in the evening at my company in Switzerland at the daytime at Chuo University – this for five months.
―You seem to have studied many things!
From a Japanese perspective, this might be quite rare. However, in Switzerland, this is much more common. We have a vocational education system where people are encouraged to work in the industry and studying part-time. Thanks to this system, I was able to discover what I like to do and pursue my career in the right way.
―By the way, what did you feel when you finished your Master studies?
In 2014, I first went back to Switzerland and continued to work at the current company of that time. However, while reaching the end of my twenties, I felt that I am at a turning point in my life and started to think about life. I asked myself what I want to achieve in my thirties as a business person and how my life should change. As a result, I decided to challenge myself in a new environment. I had various discussions with my former Professor from Chuo University about my life and also about working in Japan. At that time, I got a scout email from Nagata-san, one of the board members at BizReach. It was at the right timing. After several Skype interviews between Japan and Switzerland, I finally decided in May 2015 that I want to join BizReach.
―How and why did you choose BizReach?
First I checked the recruiting page and saw that many highly skilled engineers are working at the company. I was very interested in the idea of investing myself and improving my skills. I told myself that if I really moved to Japan, I would like to work for a company that would support me. I also strongly felt that the organizational structure is very flat. When I entered the company, I felt that my way of thinking and expressing is different from others and that is when Minami-san, the CEO, came at my rescue. We spoke in English which made it much easier and comfortable for me to talk. He also helped me to understand the cultural differences better and shared many of his own experiences. I feel really grateful for Minami-san's support.
―You already worked as an engineer in Switzerland. Why did you choose to become an engineer in the first place?
My father is an electrical engineer. So I probably got influenced by him. At the age of 7, I started to learn Java by myself and really liked to try out programming, create something from scratch and automate tasks. To me, engineering work is at the border between art and technology. It's not about creating beautiful code, but to solve problems in an innovative, creative and beautiful way. Engineering work has many challenges and offers many possibilities, that is why I feel attracted by this field.
Failure teaches success - the importance of teamwork.
―Working for the first time in Japan, you probably faced many challenges. Concretely, what was the most challenging point?
First and foremost the language and the culture were very challenging. During the first year and a half, to make the assimilation process easier, I almost exclusively worked in English. I also got a lot of help from my Japanese coworkers. My biggest frustration at that time was that "tasks that I was able to do well in Switzerland, I couldn't do in Japan" because of the different working environment and the different way of communicating.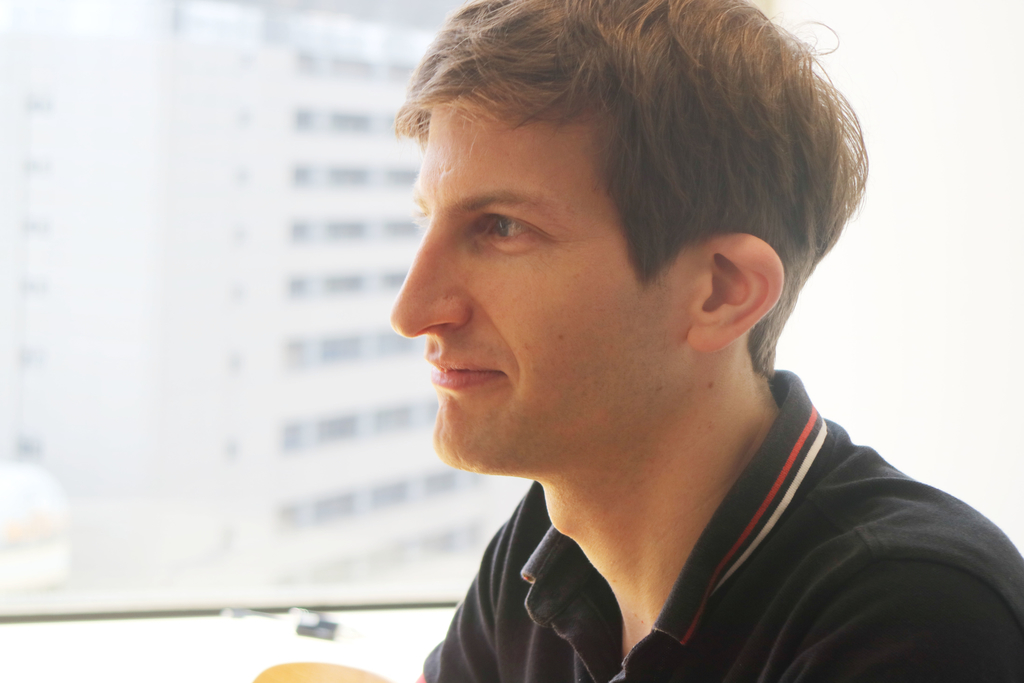 ―How were you able to overcome those challenges?
First, by studying a lot. Even now I am still continuing to study Kanji every morning between 7 AM and 8 AM. Learning with mobile apps, reading the newspaper and learning new words if I don't know them - that's the way I think I can acclimate best to Japan, by learning the Japanese language and culture. Also, I have a close Greek friend who lives in Japan for 25 years. He lived for a long time in Kansai and was always working for Japanese companies. Since we both come from the old continent, we share many things and exchange our experiences. He helped me many times.
―So your "foreign senpai" was a strong support. In that sense, when did you start to enjoy your work and what was the turning point?
I think that it happened when I moved to Stanby. At that time, I felt able to work with Japanese, to make good relationship and didn't feel stressed anymore. At Stanby, the moto is to "succeed through cutting-edge technology", I had the opportunity to work with many skilled engineers and coworkers. My motivation also increased under the positive influence. Of course, there were also some hard times, but surrounded by skilled co-workers in a strong technical environment, I felt that this was my turning point.
―I can feel that you cherish teamwork and your colleagues!
By the way, in general, what is your primary motivation in life?
Since I am young, I try to set goals and move towards them. My birthday is a good milestone for setting small objectives and look back to last years' achievement. "In my next year, I want to achieve X". If at the next birthday I can look back at a successful year, I feel happy. That's also why I set up a timeline and goals when coming to Japan. Basically, I told myself that if I can succeed within 3 years in Japan and show some results, I will stay, otherwise, I will go back to Switzerland.
―That's interesting! Being able to set your own goals and achieve them, that's great!
Now it's exactly 3 years since I came to Japan. That's why I feel extremely happy about being able to get the award as the best engineer. It feels great and gives me a motivation boost that I will remember when I will have hard times in the future.
"Moving towards a big goal but live in the present".
―Stefan, tell me about your future plans.
As a big goal, I would like to found my own company. I would like to think about something, create it on my own and make it grow as a business. However, succeeding as an entrepreneur is very difficult and at that time I will not be able to rely on many skilled coworkers at first. That's why I think that one of the success factors is "creating the right team". That's what I learned also from Stanby. Respecting each other, learning proactively, being able to exchange different opinions – those are some characteristics of a good team, I think. It is also the good team that makes Stanby succeeding. It's essential to have a good team in order to have a successful business in the long run. That is also why I want to continue for now to invest myself into BizReach. I still have a lot to learn. First, promote Stanby and make people aware of Stanby. Then, I want to bring in my different viewpoint as a foreigner and make BizReach more global.
―Indeed, it seems that there are more and more foreigners at BizReach.
New graduates from Hong Kong entered the company this April and other foreigners will enter next Spring. From now, I also would like to integrate more global people from Europe and the US, as well as from other Asian countries. Especially Stanby is interesting for engineers as it is growing very fast. I really think that this is an interesting product and very challenging as an engineer.
―There are many opportunities at BizReach and it's important to have a "challenger spirit".
I like new challenges. Failure or success, both are one's own responsibility, that is why challenges are motivating. At BizReach, there are many new businesses. That's one of the many attractive points here. Being able to get involved in a new business is also part of my goals.
―One last question, what is your preferred "Japanese word"?
I like the idea of "living in the present". If you cannot enjoy the present, it is difficult to think about the future. That's why I think that it is important to enjoy the present while working on the future. That's why I like to live now.
―Thank you for your precious time.
I am looking forward to your next achievements!